Girls in Space: Let's Take Off!
Posted 23/09/2019 by Sonia Reis (@soniaraquelreis)
"I pretty much always wanted to be an astronaut. When I was 8 years old, I was fascinated by looking at the stars," said Insa Thiele-Eich PhD. She is one of two German female astronauts that will be the first to travel to the International Space Station (ISS) by 2020. Thiele-Eich inspired an audience of maths and science teachers from 20 countries at the conference Sharing Inspiration 2019. "As a young girl that excelled in STEM, I didn't experience gender differences. But in my field, I notice that women are not represented. We need to include more women in STEM," she declared.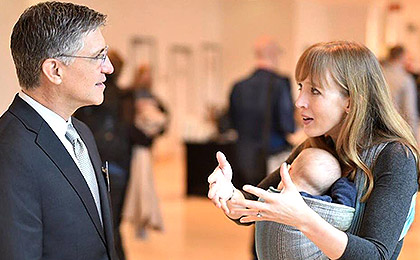 A Galaxy We Know Nothing About
In Germany, the initiative Die Astronautin was started to be able to have the first female German astronaut in space. The new space movement is to spark interest in science and technology among women and young girls and to show how exciting STEM is. Thiele-Eich shared, "Since my childhood, I have been driven by the question 'why?' When my father, also an astronaut, one day indicated Andromeda to me, he told me this is the only galaxy besides earth that we can see. And we know nothing about it! This struck me, and I realized that there is always another question to ask. My strength lies in STEM, so I developed in this direction and became a meteorologist. How cool would it be to see earth and its weather system from above? I can't wait to go and am positively anxious when I picture myself sitting in the Dragon capsule."
Thomas Cycle
Studying STEM has had a vital impact on Thiele-Eich's career. "As the first German female travelling to space, now being a role model for women and young girls is part of the program. In time I started to see why this is important because there are still people who question the ability of women. So yes, we need to include more women in STEM careers. In Germany, we experience a problem called 'the Thomas cycle.' It is human tendency to select people who are like you and, therefore, women are still underrepresented. Also, people sometimes obstruct women, who, like me, combine having children and pursuing a career. I have had comments on my Facebook account of people saying I shouldn't travel to space since I have kids," she said.
Gender Differences in Secondary School
Looking back at her time in secondary school, the German astronaut remembers incidents regarding gender differences. She recalls: "Like when our school organised a tech lab and boys were asked to come forward since this was 'of interest to them.' There are a lot of clichés with being a girl, and these are unfortunately present in many classrooms. The problem is that, as a girl, you must actively decide to choose STEM. This is a shame because studies point out that when people say, 'you are not good at this,' it will hamper them from studying STEM. My advice to teachers is to not discuss the fact that they are girls, but to treat all students in the same way. Also: check if you have biases. Harvard University supplies nice instruments for example, called Project Implicit."
All Kids Love STEM
Peter Balyta, president, Texas Instruments (TI) Education Technology, sees the lag of women in STEM as a serious problem. "We know that all kids love STEM, but around middle school a much smaller portion of girls choose to study STEM. Texas Instruments strives to show girls, as well as boys, that STEM is for them — to see girls set the same career goals as boys. We help them to visualize themselves in STEM by keeping their passion for science. The challenge for teachers is to engage all students in STEM. TI technology helps them to innovate and create projects to fuel students to learn STEM subjects," he said.
Passionate Teachers Make Maths Inspirational
As part of the German space effort, the staff members have developed an education initiative for primary schools. Thiele-Eich stated, "One part is an introduction into programming that is meant especially for young girls, since they seem more hesitant to start programming. In general, marketing efforts involving programming are very focused on boys in their teenage years. That is why programming seems less intended for girls. We involve girls and teach them that it is simple to program. This is also the way to go for teachers, because in the future many jobs will rely on programming." The German astronaut thinks they have a crucial role. "What helps to make maths inspirational is powerful and passionate teachers; they made an impression on me as a child. Teachers have to empower children to ask why and let them find the answer themselves."